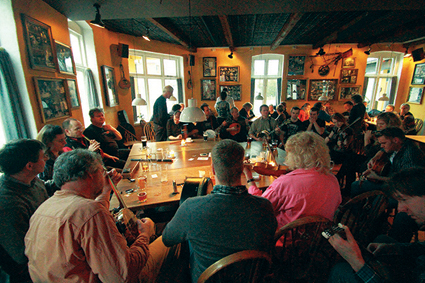 4. An association

When the initial funding period ended the society was reorganized and some changes were made that made it possible for the society to seek funding from the German organisation "Culture Dialog".

These arrangements secured the short term future of the project. With the support of Kultue Dialog the society secured enough funding to present, over the following 2 years, 8 traditional Sessions, 8 Dance workshops, 2 of which were "Sean Nos Step dancing 6 of traditional Irish Set dancing, 2 Instrumental workshops in Traditional Irish Music as played on Fiddle, Flute , Box and Piano.


The partnership with Kulture Dialog ended in December 2013 and new funding is now being sought so TSS can build on the success of the past 2 years and continue to bring traditional culture to a wider audience.

The standing commitee of TSS consists of its chairman Ulrike Matzin,
Vice Chairman Klavs Vester, Tønder, Treasurer Halvor Bogh Tønder Ordinary members Damien Reynolds Aarhus and Alex Röeder, Husum, Germany. The societies accountant is Anker Hinze, Tønder.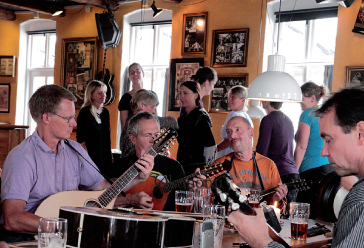 5. The association's role in the local environment

The society is to hold workshops and sessions of Irish music and dancing throughout the year in Tonder. These events should include an audience not just among musicians but also among a wider public from throughout Danish/German border region wishing to attend for a weekend the workshops, sessions and dancing in Tonder.

Typically a weekend workshop attracts an additional 40 bed nights to the town and some of the towns businesses sponsor prizes for raffles.


6. The artistic profile

From the start TSS has made some basic artistic decisions. The workshops must be of a high standard and the performing teachers and musicians among the best available. Dance workshops must be done by experienced instructors to live music by competent musicians preferably from Ireland. The musicians will also be the cornerstone and serve as inspiration in the sessions.

It is intended that the workshops allow everyone to learn in an atmosphere of mutual respect and the overall result is that everyone gets to improve in their abilities and skills. The sessions allow participants and the general public to listen to, and enjoy some of finest musicians and dancers from Denmark, Germany and Ireland perform in an intimate and informal setting where the lessons from the day can be discussed and occasionally practiced.

The experienced dancer and instructor Mairead Casey on her first visit to Tonder was very impressed by the high standard of dancing in Tonder and praised TSS for not compromising:
"What ever you do, don´t lower the quality of the music!"